A global footprint
Ferrexpo has developed a global network of premium customers across five continents, which all use Ferrexpo's iron ore pellets to create high quality forms of steel for modern life.
Through investment in its operations, the Group has developed a product offering that is focused exclusively on high quality, high grade forms of iron ore, which are used to produce high quality forms of steel. Through Ferrexpo's global presence, the Group's marketing offices have developed long-standing relationships with a number of key customers globally, and typically sell production under established long-term contracts that reflect the prevailing iron ore index, pellet premiums and international freight rates.
Iron ore pellets are distributed around the world to customers using a combination of Ferrexpo's own logistics capabilities in Ukraine, either exporting to Europe via rail or barge, or loading products onto oceangoing vessels at the port of Pivdennyi (formerly known as Yuzhny) in southern Ukraine. From Pivdennyi, the Group exports its iron ore pellets to Asia, the Middle East and North America.
A breakdown of the Group's pellet sales by geographic region in 2021 is provided in the map shown below.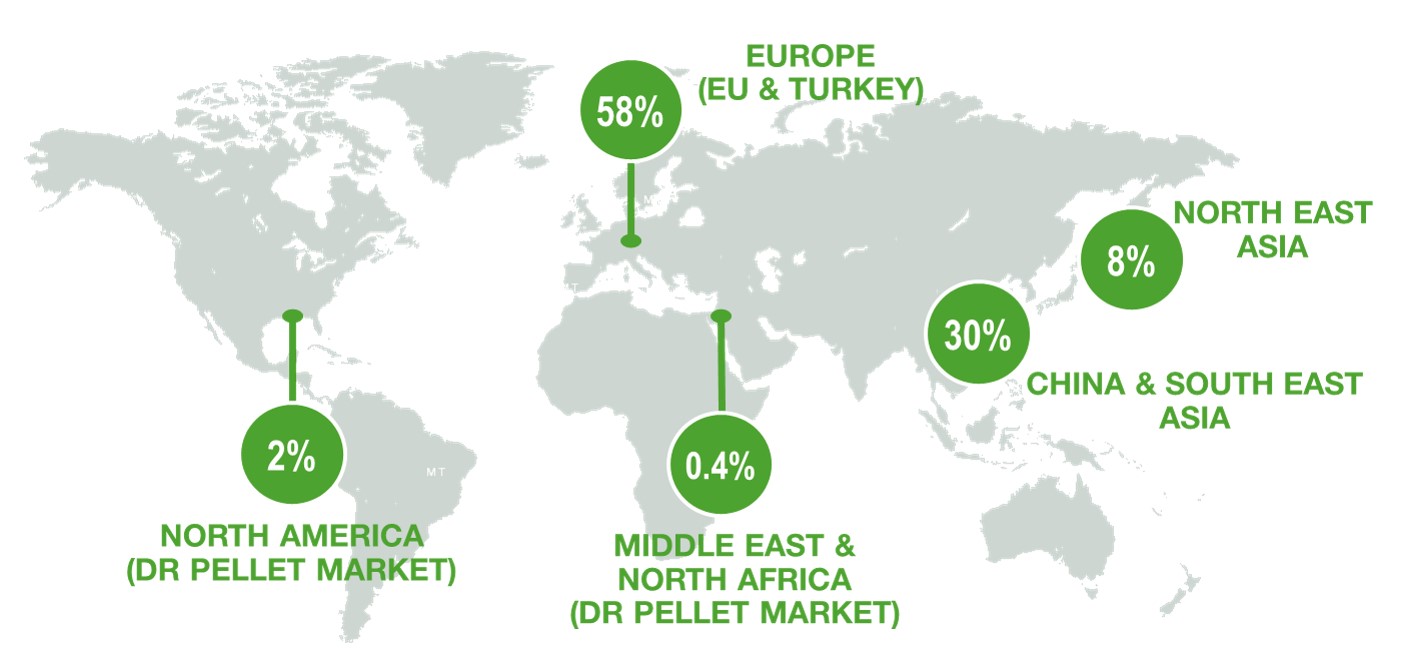 Images: Ferrexpo has the ability to ship its pellets to Europe by both rail and barge - historically representing approximately 50% of shipments
Case Study: logistics flexibility during Covid-19
During 2020, with the global Covid-19 pandemic unfolding, markets around the world were tested to their limits, with shifts in demand seen on an unprecedented scale. The iron ore market was no exception, with declining demand in Europe and North East Asia, and a relative increase in demand from Chinese steelmakers. Through Ferrexpo's investments in its logistics network and global marketing function, the Group was able to successfully pivot sales temporarily to the Chinese market, reflecting market conditions at the time. Sales to customers in China and south east Asia rose from 30% of the Group's sales in 2019 to 56% in 2020, representing a significant increase in tonnes shipped via the Group's berth at the Port of Pivdenny in south west Ukraine. Following 2020, global markets are reverting to previous demand patterns, and in 2021 the Group has seen sales to traditional destinations such as Europe and north east Asia, return to levels in line with previous years.
Whilst 2020 was a year that few would wish to repeat, the Group was able to show resilience and adaptability to shifting conditions, providing confidence in the Group's business model and investments to date.