Tackling stereotypes
Ferrexpo understands the link between a diverse workforce, an inclusive culture and stronger business performance.
In the modern world, there is clear need for diversity of its leadership team and broader workforce, as diversity drives better decision making and a more inclusive, productive working environment. Diversity is often associated with gender and race, but also relates to different social and ethnic backgrounds, sexual orientation, age, physical ability, and national origin, amongst others.
In terms of Ferrexpo as a whole, the Group's employee workforce was 29.2% female in 2021 (2020: 29.2%) and the Group's management team was 20.1% female (2020: 18.2%).
The Group has a medium-term target of increasing its female representation at management level to 25% by 2030 and has a number of initiatives to promote progress towards this goal that include the following:
"Fe_munity" Women in Leadership Programme – training programme specifically tailored towards advancing the careers of high potential females – see here for more information on this particular project, which helped to increase the number of women in management roles by 11% in 2021.
An analysis of gender balance throughout the Group's operational entities in 2020, to identify where women are under-represented, and targeted projects to promote greater
female participation in key departments such as Production and Maintenance.
A graduate bursary programme agreed in 2020, which is linked to the Group's five-year workforce plan and diversity targets.
Chart: Gender diversity in Ferrexpo's employee workforce versus peers
(Note: FTSE250 Peer Group shown above reflects average for mining companies included in FTSE250 Index as of December 2021.)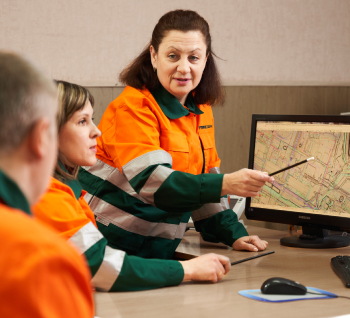 Understanding diversity
In the first quarter of 2021, the Group completed its first anonymous survey on diversity and inclusion topics at its operating entities in Ukraine, reaching over 630 employees. The survey is the Group's first study into topics such as gender identification, sexual orientation, nationality and other forms of diversity, as well as raising forms of discrimination that have been encountered by members of the Group's workforce.
Further details of this survey and other diversity and inclusion are provided in the Group's latest Responsible Business Report, available here.
Video: Promoting diversity in traditionally male-dominated roles