Lucio Genovese, Non-executive Chair, said:
"Twelve months ago, we spoke in our Interim Results announcement of an exciting future ahead for the Ferrexpo business, and whilst this positive growth story remains in the Group's plans, today we are focused on supporting the people and communities of Ukraine following more than 150 days of Russia's continued invasion. The results announced today reflect an unprecedented period in the history of Ukraine, and Ferrexpo, and should be viewed as a result derived through the strength and determination of Ferrexpo's workforce in Ukraine and those involved in facilitating the export of the Group's products.
"Having previously shown resilience during the global Covid-19 pandemic in 2020 and 2021, the Group's operational teams managed to produce 4.8 million tonnes of iron ore pellets in 1H 2022, and a financial result that is in many ways comparable to historic periods, despite a deterioration in global iron ore markets. Through fifteen years of continual investment to strengthen the Ferrexpo business, we find ourselves in a position to deploy humanitarian support to the people of Ukraine through the Ferrexpo Humanitarian Fund, established in early 2022 and with total approved funding of US$15 million directed towards relevant humanitarian projects across Ukraine. This aid is provided alongside the direct community support provided through the Group's Charity Fund, which has a long-established presence developing and supporting local communities.
"Despite the ongoing conflict in Ukraine, the Group continues to invest in the future – advancing both near-term projects to completion such as the Group's newly completed Medium and Fine Crushing Plant, to the development of longer term projects such as development stripping activities at the Group's third mine – Belanovo, which have continued despite the current environment. The Group's major capital investment programme, the Wave 1 Expansion Project, which will add a further three million tonnes of annual pellet production, remains paused, but will recommence once the conflict risk facing the Group subsides.
"I would like to thank our workforce, suppliers, communities and customers for their continued efforts and support at the present time; it is only through the collective effort of all various stakeholders that we are able to present the results presented here today."
Financial Highlights
Revenues declined by 31% to US$936 million as a result of lower production and tighter market conditions.
Profit after tax in the first half of 2022 ("1H 2022") declined by 88% to US$82 million, reflecting the realisation of an impairment of US$254 million during the period.
Underlying EBITDAA decreased by 44% to US$486 million, reflecting higher costs, principally driven by lower production volumes, rising global inflation and energy prices.
The Group remains in a Net CashA position (US$172 million), comprising US$177 million of cash and cash equivalents, and minimal debt as of 30 June 2022 (Net CashA position as at 31 December 2021: US$117 million).
Capital investmentA of US$102 million during the period, with the Group continuing to invest in projects delivering near term value.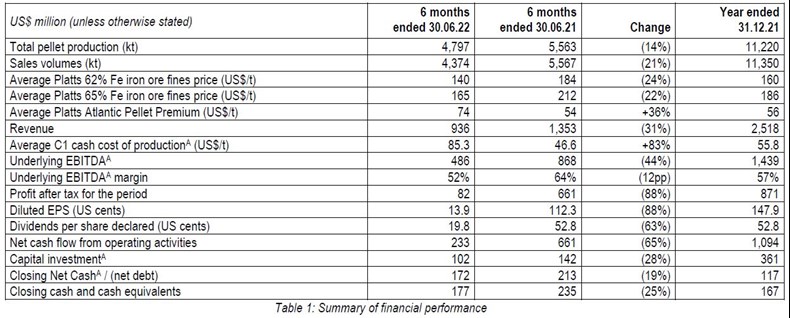 Link to full PDF version of this release: click here.
---
For further information, please contact:
Ferrexpo:
Rob Simmons
[email protected]
+44 207 389 8305
Tavistock:
Jos Simson / Emily Moss / Gareth Tredway
[email protected]
+44 207 920 3150 / +44 7785 974 264
Notes to Editors:
Ferrexpo is a Swiss headquartered iron ore company with assets in Ukraine and a premium listing on the London Stock Exchange in the FTSE 250 index (ticker FXPO). The Group produces high grade iron ore pellets, which are a premium product for the global steel industry and enable reduced carbon emissions and increased productivity for steelmakers when the Group's iron ore pellets are converted into steel, compared to more commonly traded forms of iron ore. Ferrexpo's operations have been supplying the global steel industry for over 50 years and in 2021 the Group produced 11.2 million tonnes of iron ore pellets, placing Ferrexpo as the world's third largest exporter of pellets to the global steel industry with a market share of approximately 9%. The Group has a global customer base comprising of premium steel mills around the world, which includes steel mills in Austria, Germany, Japan, South Korea, Taiwan, China, Slovakia, the Czech Republic, Turkey, Vietnam and America. For further information, please visit www.ferrexpo.com.