Delivering progress on Scope 1, 2 and 3 emissions
The Group understands the need to prioritise low carbon production and is constantly developing its reporting around climate change to reflect this ambition.
50%
Scope 1 and 2 emissions target for 2030.
10%
Scope 3 emissions reduction target for 2030.
2050
Net Zero emissions by 2050 for Scope 1 and 2 emissions.
Since 2016, the Group has published detailed information on its Scope 1 (direct) and Scope 2 (indirect) emissions of carbon dioxide, and evolved reporting to include Scope 3 emissions in its 2019 Responsible Business Report.
The Group's carbon footprint primarily relates to three key activities - diesel consumption in the Group's mining fleet (Scope 1), electricity consumption in the processing plant (Scope 2) and natural gas in the pelletiser (Scope 1). Collectively these three consumables account for approximately 80-90% of the Group's Scope 1 and 2 footprint, and therefore these are the three main focus areas in the Group's efforts to decarbonise its production.
Since 2019, the Group has been proactively managing its carbon footprint, with a number of activities to reduce carbon emissions commencing in 2020, and as a result 2019 is selected as the Group's baseline year for reducing emissions. Through proactively addressing the Group's carbon emissions, the Group has seen significant progress in reducing emissions as shown in the chart below.
Chart: Material reduction to carbon emissions since baseline year of 2019
Carbon and Ferrexpo's decarbonisation pathway
The Group's reporting on the environment includes the Group's reporting on carbon emissions, which is a core topic for the Group as it undertakes its journey towards low carbon pellet production. Carbon is not a conversation that the Group takes lightly, and has made significant progress in reducing its carbon footprint since establishing a baseline year of 2019. Progress to date has seen a cumulative 31% reduction in Scope 1 and 2 emissions (combined basis, per unit of production), with emissions per tonne falling in 2022 despite the war in Ukraine impacting operational activities.
Following the Group's announcement of its collaboration with environmental consultants Ricardo Plc to further develop its reporting on climate change and decarbonisation targets, and the Group was able to publish its first standalone climate change report in December 2022 (available here). Through this work, the Group has been able to upgrade its Scope 1 and 2 carbon emissions reduction target to a 50% reduction by 2030 (previously 30%), as well as broaden the Group's emissions targets to include Scope 3 emissions. The Group is targeting a 10% reduction in Scope 3 emissions by 2030 and a 50% reduction by 2050. All emissions targets are presented on a per unit of production basis.
The Group has also committed to reducing its Scope 1 and 2 carbon footprint to net zero by 2050, with this goal a signal of intent for the Group's future investment plans.
In recognition of the importance of climate change, the remuneration packages of the Group's executive management team, which includes the Group's CEO, are linked to performance in cutting carbon emissions, in addition to other sustainability-linked factors, such as safety.
Adaptation underway: decarbonisation projects commenced
Ferrexpo's carbon footprint for Scope 1 and Scope 2 emissions can be broken down into three key activities - diesel consumption in the Group's mines, electricity used in processing and natural gas in the pelletiser. These three consumables accounted for 85% of the  Group's carbon footprint in 2022 (Scope 1 and 2 emissions), and each one is being specifically addressed in the following projects as shown below. In assessing projects that have an emissions benefit, the Group applies a carbon price for financial modelling of the economics of each project, which is based on the five year trailing average price of carbon in the European Union.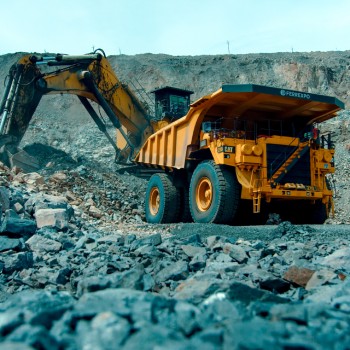 Mining electrification
Diesel consumption in excavators and haul trucks, accounts for approximately 20-25% of the Group's carbon-equivalent emissions. The Group already has a number of electric-powered excavators, which have been in operation for over 10 years. To supplement this diesel reduction further, the Group is investing in trolley-assist technology in the near term, which will significantly reduce diesel consumption whilst trucks are ascending haul ramps, and in the longer term the Group plans to invest in battery technology for haul trucks.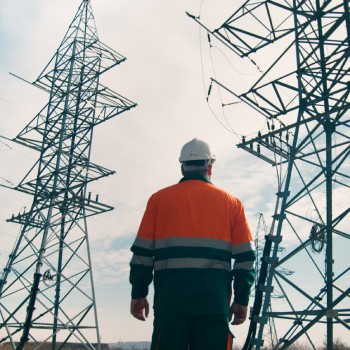 Processing using clean power
Electricity consumption in the Group's processing plant, which has historically accounted for 35-40% of carbon-equivalent emissions. Since 2020, through regulatory change in Ukraine, the Group has been able to target purchasing of clean electricity, and has been able to significantly reduce its Scope 2 emissions as a result. The Group intends to continue this clean power purchasing strategy to reduce its Scope 2 emissions footprint further.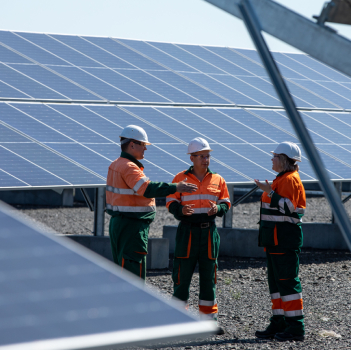 Investing in solar power
In 2021, the Group also launched its own 5MW solar power pilot project, to test the effectiveness of solar power in central Ukraine. If successful, the Group will significantly increase this project's output, to further reduce Scope 2 emissions, further details of which are available in the Group's Responsible Business Report here.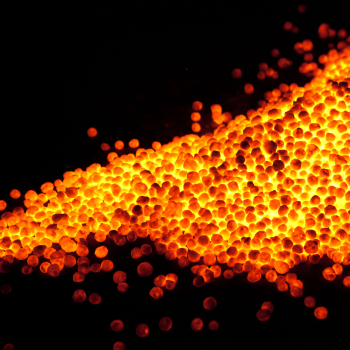 Green hydrogen for pelletising
Natural gas consumption in the Group's pelletiser, accounting for approximately 25% of the Group's emissions. Natural gas is used to heat green pellets to 1,300oC, providing the required properties for use by steelmakers. Over time, the Group expects to adopt Green Hydrogen as a means for fuelling its pelletiser, once this technology becomes more widely available.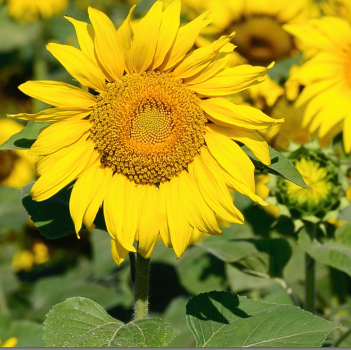 Biofuels to replace fossil fuels
In the short term, the Group is already using biofuels, in the form of sunflower husks, as a partial substitute for natural gas. Ukraine is one of the world's largest producers of sunflower oil, and sunflower husks are an abundant byproduct of this process, making them an ideal biofuel for partial substitution natural gas in the pelletiser. The Group has successfully increased consumption of this biofuel to be 20-25% of the total energy input for the pelletiser, depending on the type of pellets being produced.
Environmental accreditations
In addition, the Group has a number of ISO certificates across its business, including the accreditation of Ferrexpo's energy management system at FPM (ISO 50001:2018), which was achieved in December 2020, along with the Group's continuing certificate for its environmental management system (ISO 14001:2015). The Group's barging subsidiary First-DDSG also completed the certification process for its quality management system (ISO 9001:2015) in January 2020.