The results of voting at Ferrexpo's Annual General Meeting ("AGM") held today, 25 May 2023, are summarised below.  All Resolutions were voted by way of a poll.
As stated in the Company's AGM Notice and under Listing Rule 9.2.2E, a resolution to elect or re-elect an Independent Director must be passed by both a majority of the independent shareholders (excluding the Company's controlling shareholder) and a majority of all shareholders. In order to determine this, votes cast by the independent shareholders were counted separately in respect of the re-election of Graeme Dacomb, Vitalii Lisovenko, Fiona MacAulay and Natalie Polischuk and the results of that separate count are set out below.
Voting Results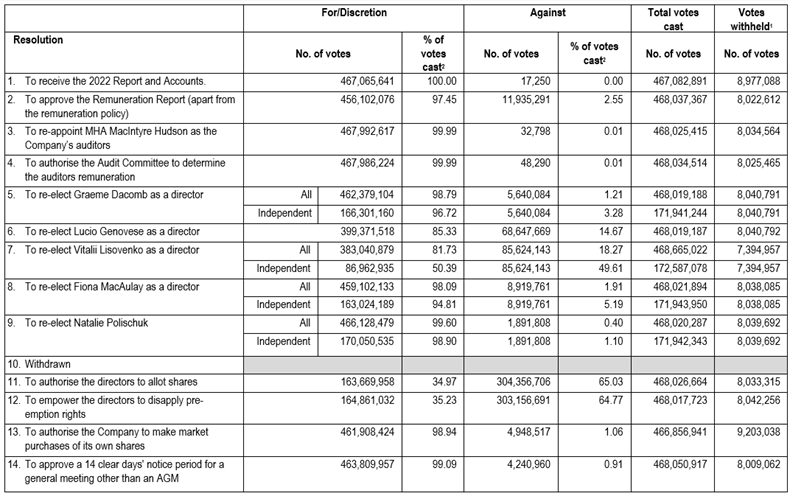 A vote withheld is not a vote in law and is not counted in the calculation of votes validly cast for or against a resolution
Excluding votes withheld
Committee changes
The Board has elected to appoint Independent Non-executive Director Natalie Polischuk as Chair of the Group's Health, Safety, Environment and Community ("HSEC") Committee, in place of Ann-Christin Andersen who did not stand for re-election at the AGM. In addition, Greg Nortje, Group Chief Human Resources Officer, has been appointed as a member of the HSEC Committee, in place of Jim North, Chief Executive Officer. The changes are effective as of today.
Significant Votes Against Resolutions
The Board of Ferrexpo notes that there were a significant proportion (more than 20%) of votes cast against the resolutions to authorise the directors to allot shares and to empower the directors to disapply pre-emption rights, and ultimately these resolutions did not pass. The Board of Ferrexpo understands that this voting outcome was primarily as a result of the Company's largest shareholder not wanting to incur further dilution to its voting interest in the Company. There were also a significant proportion (more than 20%) of votes cast against the re-election of one of our Company directors based on the outcome of the votes of the independent shareholders.
The Board will consult and engage with shareholders to better understand the reasons behind these votes and will publish an update of its shareholder engagement within 6 months of today's AGM.
Further Disclosures
As at the date of the AGM, the Company's issued share capital (excluding treasury shares) consisted of 598,137,142 Ordinary Shares carrying one vote each. Therefore, the total number of voting rights as at the date of the AGM was 598,137,142.
In accordance with Listing Rule 9.6.2, Ferrexpo plc has submitted a copy of the resolutions dealing with the special business put to shareholders at the AGM today to the National Storage Mechanism, which will shortly be available for inspection at https://data.fca.org.uk/#/nsm/nationalstoragemechanism.
---
For further information, please contact:
Tavistock:
Jos Simson / Emily Moss / Gareth Tredway
[email protected]
+44 207 920 3150 / +44 7785 974 264
Notes to Editors:
Ferrexpo is a Swiss headquartered iron ore company with assets in Ukraine and a premium listing on the London Stock Exchange in the FTSE 250 index (ticker FXPO). The Group produces high grade iron ore pellets, which are a premium product for the global steel industry and enable reduced carbon emissions and increased productivity for steelmakers when the Group's iron ore pellets are converted into steel, compared to more commonly traded forms of iron ore. Ferrexpo's operations have been supplying the global steel industry for over 50 years, and in 2022 the Group produced 6.1 million tonnes of iron ore pellets, despite the war in Ukraine. Historically, Ferrexpo has been the world's third largest exporter of pellets to the global steel industry, recently having a market share of approximately 9% in 2021. The Group has a global customer base comprising of premium steel mills around the world, which includes steel mills in Austria, Germany, Japan, South Korea, Taiwan, China, Slovakia, the Czech Republic, Turkey, Vietnam and America. For further information, please visit www.ferrexpo.com.